:: PERCUSSION ::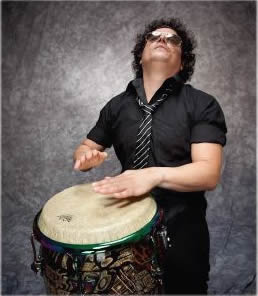 Born in Havana, Cuba, Pepe Espinosa began his musical studies in 1974 at age 4 with his father, renowned Cuban drummer "Pepin Drum". He went on to study at the Conservatory of Music in Havana Adolfo Guzmán. At age 12 his professional career began playing bongos for Cuban Conjunto, Conjunto Saratoga. He has appeared on over 20 recordings and has played and toured with many internationally renowned ensembles, including B.B. King, the Afro Cuban All Stars, Arturo Sandoval and the Scandinavian pop star Jari Sillanpaa.
Pepe is endorsed by Soul Tone, Vic Firth and Latin Percussion.
Need more cowbell in your life?!!
Ask Pepe, he will give you more cowbell!