BANDONEON & ACCORDION
Julien Labro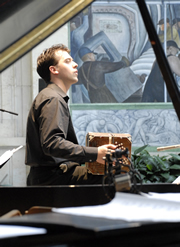 As a young boy growing up in Marseille France, Julien Labro watched a professional accordionist perform on television and was fascinated with the instrument, which is highly regarded in his homeland. He begged his parents to allow him to try his hand at it, and by age nine, it became obvious that they had a musical protégée on their hands. Since then, Labro has established himself as a rapidly rising international accordion star in both the classical and jazz worlds.
By age fifteen, Julien, who had recently graduated from the Marseille Conservatory of Music, quickly began winning international awards, taking first prize in the Coupe Mondiale in 1996 and the Castelfidardo Competitions in 1997. After sweeping first place in the Marcel Azzola, Jo Privat and Medard Ferrero competitions in 1995 and 1998, Labro began studying under internationally acclaimed accordion maestro Peter Soave. The liaison with Soave resulted in the opportunity for Labro to move to the United States, a dream that he had harbored for several years.
Since 1998, he has lived and studied with Soave, and his reputation as a formidable and dazzling musician has continued to grow on this side of the Atlantic. Soave, who is Adjunct Associate Professor of Bandoneón and Bayan at Wayne State University expanded Labro's musical desires. Under Soave's tutelage, he has mastered the bayan (classical accordion) and its repertoire, and discovered the bandoneón (tango accordion). Labro was the winner of WSU's Concerto Competition in 2001, 2002 and 2003, and was recipient of the Lawson Scholarship in 2002, the prestigious Presidential Endowed Scholarship in 2003, and the Presser Scholarship in 2004. Labro was inducted into the Pi Kappa Lambda Honorary Musical Fraternity in 2004, and was recognized by the United States Achievement Academy as a Collegiate All-American Scholar in 2003 and 2004. Labro, a 2005 Magna Cum Laude Bayan Performance graduate of WSU holds a Masters Degree in Jazz Studies, and is currently pursuing a Masters Degree in Music Composition.
Labro has toured extensively throughout the United States and Europe, and has performed in France, Italy, Slovenia, Andorra, Portugal, Germany, Croatia, Finland and Sweden. Stateside, he has been a guest artist with the Grosse Pointe Symphony, the Birmingham-Bloomfield Symphony, the Saginaw Symphony, the Bijou Orchestra, the Wayne State University Orchestra and the Michigan Pops Orchestra. Labro also performed at the International Finnish Accordion Festival, and the International Las Vegas Accordion Convention, where he was featured with accordion legends Dick Contino and Art Van Damme.
In 2005, Labro grabbed 1st prizes in the Art Van Damme Intl. Jazz Accordion Competition (Dallas, TX), the Vivian Stolaruk Intl. Entertainment Award (Detroit, MI), and the 2005 Heineken Jazz Starquest as a member of the eclectic sounds of the Jonathan Dixon Quintet. Labro's current jazz activities include performances at numerous jazz venues and festivals with innovative groups like "Jazz Wagon" and "Hot Club of Detroit". Labro's performance with the "Hot Club of Detroit" garnered numerous critical acclaims and prizes like "Best Jazz Traditional Group" at the Detroit Music Awards 2006, 2007, and 2008. Recently, Julien has shared the stage with artists such as Joao Gilberto, James Carter, Howard Alden, Greg Fishman, Paulinho Garcia, and Grazyna Auguscik.
Labro has made numerous radio and television appearances in the United States and Europe, and has played and been interviewed on Radio France, WDET-Detroit's Ed Love and Martin BanDycke Shows, WFJ-AM's Mitch Albom Show and Fox-Detroit News.
On a creative level, Labro has been enlisted as an arranger for several professional ensembles, most recently for Ensemble Vivant of Toronto, led by international pianist Catherine Wilson.