:: EDUCATIONAL OFFERINGS ::
The various members of the Oblivion Project have an unusual ability to connect with music students of all ages. Most of us have been spent our careers committed to teaching as well as performing, and so we have years of experience working with students of all ages, K-12 and college. We bring the same energy, humor, and diversity to a school setting that we bring to the stage in general.
Our programs are flexible, and because of our range of experience from jazz to orchestral playing and chamber music, we are happy to: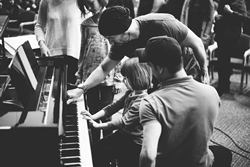 Present an engaging performance/presentation of Piazzolla's music.
Provide master classes and feedback of some kind to student performers.
Appear as our full group, or as a smaller contingent.
Share from the endless bank of stories and anecdotes that we have- of our own lives as performers, of the rich history of musicians in general, from jazz to classical music.
Give a behind-the-scenes view of our own ensemble- how we bring our ideas and personalities together, how we rehearse, etc…
Provide some of our own ensemble arrangements of Piazzolla's music and read along with students in a demonstration of how this music might be different from more conventional orchestral playing.
LETTER FROM A PROGRAM SPONSOR

I recently had the pleasure of observing The Oblivion Project at Shaker Heights High School. The musicians played for – and with – two student orchestras. The Oblivion Project's educational session was amazing! Their performances were impeccable, and their focus on the music of Astor Piazzolla sets them apart from other ensembles and introduces an important composer to new audiences. That the repertoire calls for techniques and sounds not usually associated with the instruments of the orchestra must be especially interesting to young musicians.

The students' engagement in the program was evident in their facial expressions, questions, and playing. They seemed to enjoy having members of the Oblivion Project perform alongside them when they sight-read several Piazzolla pieces transcribed – and conducted – by Derek Snyder.

The two classes were enjoyable, informative, and eye-opening. I felt so fortunate to be in the audience, and I am happy to report that the donors who paid for the program were thrilled. We could not have predicted the impact of the music and the members of the Oblivion Project. Bravo!

Sue Starrett - Director of Development
Shaker Schools Foundation
March 2015